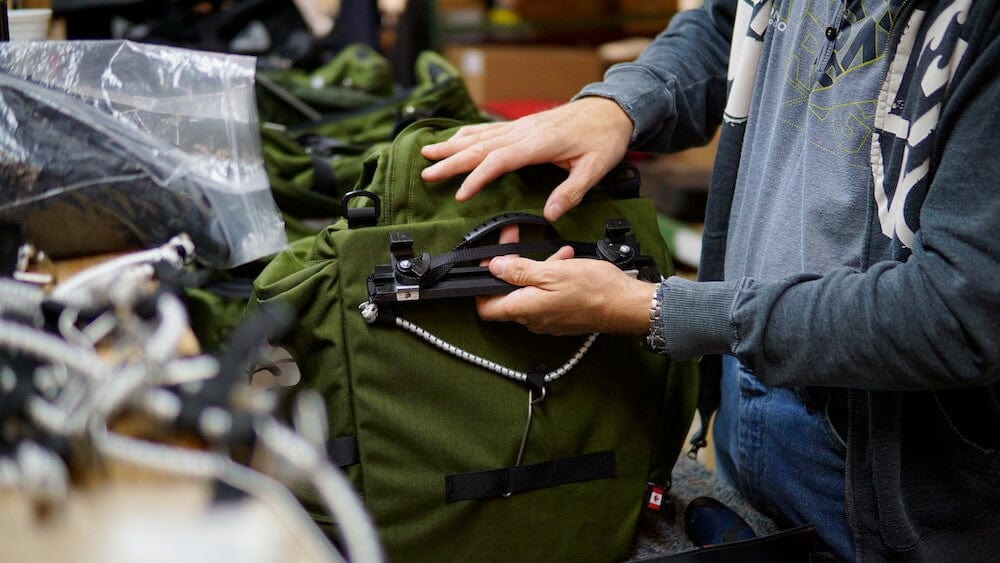 Designed in Canada. Ethically manufactured in Canada & overseas.
Our Fabrics
In order to make industry-leading bags and panniers, we need locally sourced materials that can live up to our, and your expectations. Multiple factors weight in on our choice of fabrics: eco responsible, lightweight, resistant to abrasion and tear, durable, waterproof or breathable and water repellent. We use the best fabrics that perform to the highest standards.
Cordura®
The majority of our Canadian-made products is made with Cordura 1000 deniers, a durable nylon fabric from Dupont. The Cordura fabric we use, down to its raw fiber, is produced in the USA. This high-performance material is breathable, water repellent and is extremely resistant to abrasion. Cordura boasts an exceptionally high ratio of strenght and abrasion resistance to weight. Let's call it the best of both worlds in the realm of fabrics.
X-Pac™
Originally manufactured for sailmakers, its numerous qualities and exceptional properties make it an ideal fabric for other items such as bags.
We first used X-Pac RX30 material that is 100% climate neutral and contains 100% post-consumer recycled polyester fabric on our Bikepacking bags.
We have also recently added to our Urban commuter bags, X-Pac X11 fabric featuring a natural cotton face combined with our X3 laminate construction.
X-Pac®X11 provides a soft, cotton feel and appearance with added waterproof and low-stretch characteristics. X-Pac®X11 is 100% climate neutral and contains sustainably grown cotton.

80% of our bags and panniers are made right here, in Canada.
Production Facilities
Sherbrooke, Canada
All of our bags, panniers and accessories are designed in our Canadian office. When it comes to production and assembly of our products, we try to do as much as possible in our production facility in Sherbrooke, where our bags and panniers are hand-sewn. These products are made of the real Dupont Cordura fabric and X-PAC eco responsible fabrics, no cheap copy or substitute, and we source it from the USA, our close neighbors to the south.
When it comes to our production crew, we strive on a quality-first approach: we clearly prioritize stitching quality over production pace in our ceaseless quest to offer the very best bags on the market. Our seamstresses work hand in hand with the lively crew from CRDITED Estrie – a social service program for folks with Intellectual Disabilities and Pervasive Development Disorders. They've worked at Arkel's Quebec headquarters since 2003.
We think of them as family around here.
Products Made in Canada
Overseas Partners
We take great pride in being a Canadian company and we're not ashamed to admit that we also work with overseas manufacturers for several reasons. Indeed, our foreign partners use specialized machinery and trained adult personnel in order to produce Arkel gear.
Once made, these pieces are shipped to Canada for further assembly and quality inspection by our team. By structuring our operations this way, we believe we allow Arkel to strive and prosper in a global market dominated by giants, all while staying true to our values.
For any further questions, feel free to contact us.
Products Made Overseas