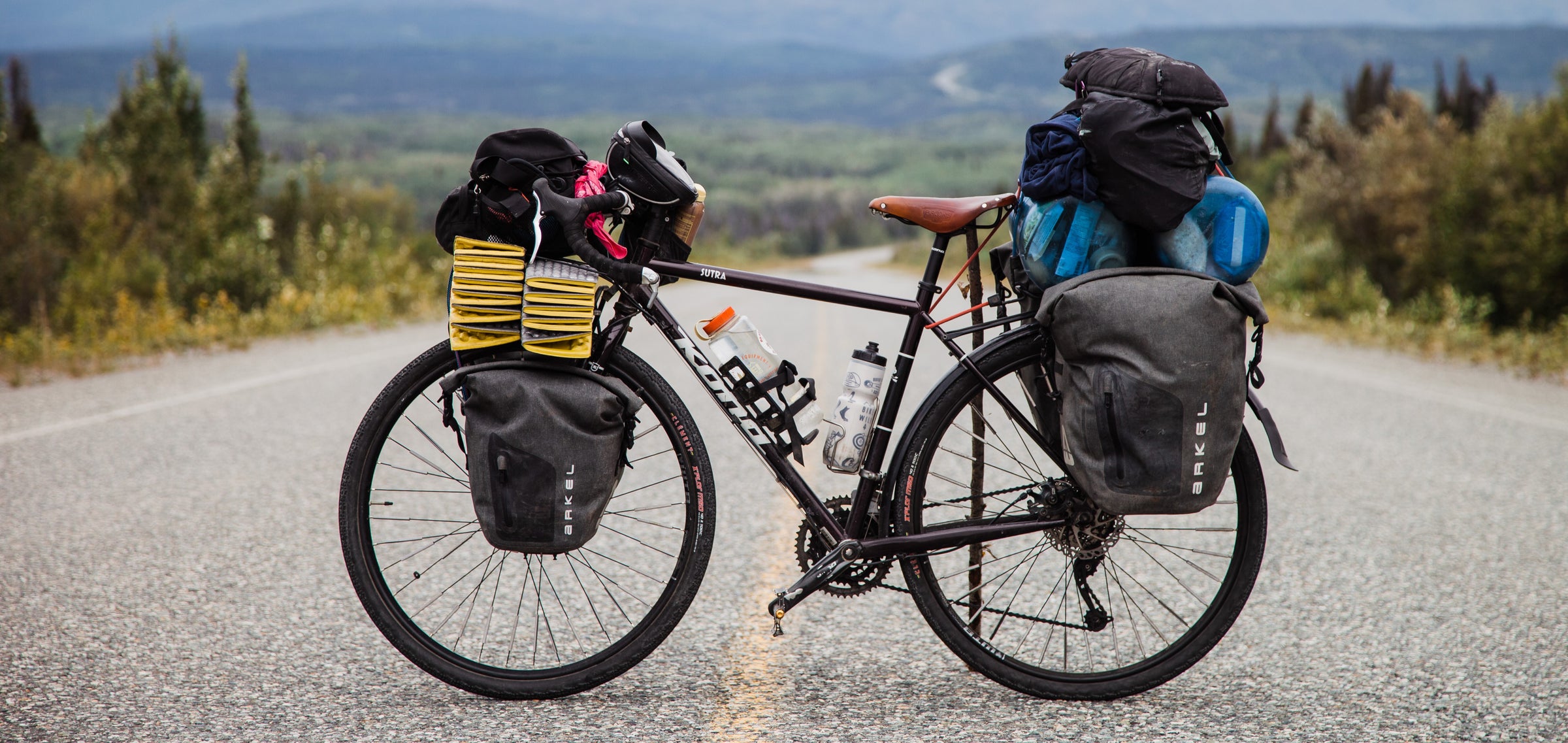 Choosing the perfect bike panniers
There are lots of bike panniers to choose from. Our goal here is to make the selection process as simple as possible.
We have panniers for everybody and every need: touring panniers, waterproof panniers, laptop panniers and more.
Below are frequently asked questions. These will help determine the type of panniers that will best suit your needs and ensure you get the most satisfaction and enjoyment from them.
Remember, riding a bike is all about having fun!
What bag should I choose if I commute?
We have a great selection of commuter panniers to fulfil your needs:
-Laptop compatible;
-Small, medium and large bags;
-Minimalists;
-Waterproof.

They are ultra-safe to carry your commuter panniers. If you are carrying a laptop, using a solid mounting system is perhaps the most important feature. 
1. They come equipped with our patented Cam-Lock® attachment system that ensures the panniers will never come detached from the rack.
2. They have a padded laptop sleeve to protect your fragile passenger.
3. They are either 100% waterproof or have a very resistant rain cover.
Click here to see the Commuting Collection.
I am planning a touring trip, what are the best bike panniers?
If waterproofness is your main concern over organization:
In this case, our Dolphins or ORCAs waterproof panniers will address all your needs and more.
- The Dolphin Series are sewn but all the seams are taped making these bags completely waterproof. These are the most practical waterproof panniers manufactured. They have a front pocket and one mesh pocket on each side.
- The ORCA bike pannier series is not sewn but rather welded with radio frequency. Welded panniers are designed for waterproofness, that is their main objective and this feature is higher on the priority list. They a minimalist rolled-top dry bags.
If the organization is your main concern over waterproofness:
In that case, a bag with lots of pockets and compartments as well as a water-repellent fabric is the best for you.
Organization & Accessibility: Being able to organize items packed inside your panniers is sometimes quite practical and this is only possible with these panniers.
Better breathing: for some, this is the preferred choice because the panniers are not sealed, they can breathe. Any moisture trapped inside the bag from a wet piece of clothing will eventually dry out. This means the inside is less prone to mildew and odour.
Here are two great options:
GT-54 bike panniers: This is our largest (54L), feature-filled touring pannier; definitely the kind of pal you want for your long expeditions. Easily organize and access your gear, toiletries, tearaway tent, sleeping mattress or fuel bottle. 
Gt-42 bike panniers: This is a smaller (42L) touring pannier. Like the GT-54 it has many different types of pockets, dual zippers, etc. The GT-42 is another great option if the organization is one of your priorities.
They both have inner liners in the main compartment to keep your essentials dry, you can also use the optional rain covers to make the exterior pockets waterproof.
Click here to see the Touring Collection.
I'm going on a bikepacking excursion, what is the appropriate gear?
Do you enjoy adventures with light and minimalist gear? We have many options for simple, waterproof, light bags suitable for your new exciting bikepacking trip.
Here are crucial features you should be looking for: 
Very stable hanger and attachment (no waging);
Waterproofness & durability.
Light weighted.

An aerodynamic bag that will not restrict your movements;
Perfect fit for your bike.
Click here to see Arkel's bikepacking bags Collection.
How to choose the size of a bag?
There are a few things you need to find out to choose the right size for you:
1. Compare different bags' volumes.
2. Ask yourself the right questions to choose your bag.
3. Seize your needs.
Click here to read about Choosing the right size.
Are Arkel panniers compatible with all bike racks?
Once you have chosen your panniers, you will need a good bike rack. Here is a useful reference to make sure the bag fits on your rack. 
Please email us the make and model of the rack that you are currently using and we will be happy to confirm that the fit is sound.
What type of pannier mounting system does Arkel use?
The Cam-Lock® attachment system is a patented mounting system. It is vital to the function of a bike pannier.
We use aluminum hooks capable of sliding and locking into place on aluminum tracks for adjustability. We use bolts rather than rivets for ease of service with the average bike tool.
Don't hesitate to consult our blog for more cues on how to choose your pannier!